Intel® Core™ X-Series Processors & Intel® X299 Chipset
The Intel Core X-Series processor family and Intel X299 chipset are designed to scale to your performance needs by delivering options ranging from 8 to 18 cores, feature Intel Turbo Boost Max Technology 3.0 (which optimizes lightly-threaded performance by identifying your processor's fastest two cores and directing your most critical workloads to them), and are ready to install Intel Optane SSDs for amazing system responsiveness.
Processor
Up to 18 cores / 36 threads
Up to 4.3GHz base clock / 4.5GHz Turbo boost
Memory
4 channels / 8 UDIMM slots non-ECC DDR4 memory
2666MHz (1DPC) / 2400MHz (2DPC) / Up to 128GB
Supported Features
Intel AVX-512 (Advanced Vector Extensions)
Intel Virtualization Technology
R161-R13 Block Diagram
R161-R13 Product Overview

Carefully Selected Components
GIGABYTE SERVER passive components are meticulously selected to guarantee a super stable operating environment and allow the processors and the memory to deliver their maximum performance. With some of the longest service lifetimes in the industry, our server motherboards are built with ultra long lasting components to attain the highest reliability levels.
Ease of Deployment and Management
GIGABYTE continues to be responsive to market needs and to create user-friendly solutions, including:
Tool-less rail kit included as a default across all new server models
Supplying multiple connector options and tools where appropriate
[ Tool-less rail kit ]
Efficient, Reliable Power Supply
GIGABYTE servers are designed to guarantee high conversion efficiency regardless of load. Redundant 80 Plus 'Titanium' PSUs, combined with GIGABYTE's precision engineering, translates to super efficient power usage which maximizes the system's power : performance ratio and reduces OPEX for the user.
GIGABYTE Server Management (GSM)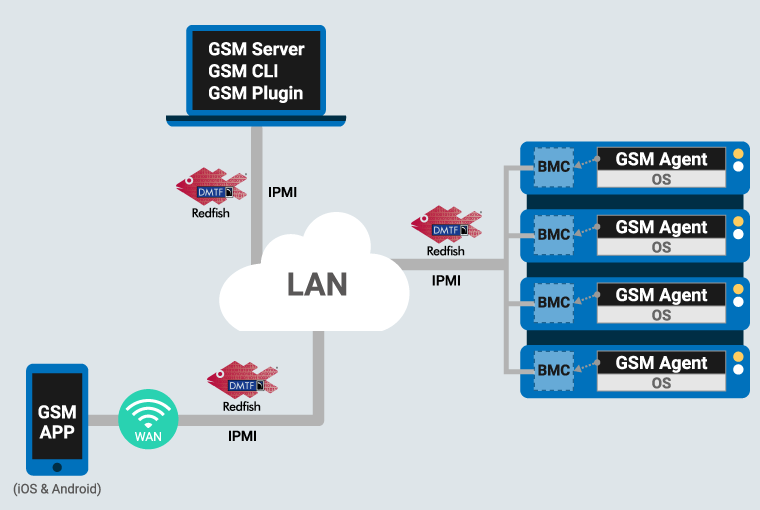 GIGABYTE Server Management (GSM) is GIGABYTE's proprietary multiple server remote management software platform, available as a free download from each GIGABYTE server product page. GSM is compatible with either IPMI or Redfish (RESTful API) connection interfaces, and comprises the following sub-programs:
GSM Server, a software program with an easy to use browser-based GUI to enable global remote monitoring and management of multiple GIGABYTE servers via each server node's BMC.
GSM CLI, a command-line interface program to enable global remote monitoring and management of multiple GIGABYTE servers via each server node's BMC.
GSM Agent*, a software program installed locally on each GIGABYTE server node that retrieves additional node information (CPU/Mem/HDD/PCI/…) from the OS and passes it to the BMC. This information can then be utilized by GSM Server or GSM CLI.
*GSM Agent is currently compatible with Avocent MergePoint IPMI 2.0 BMC firmware, but not yet compatible with Megarac SP-X BMC firmware.
GSM Mobile, a remote server management mobile APP, available for both Android and iOS.
GSM Plugin, a plugin that allows the user to manage and monitor GIGABYTE server nodes within VMware's vCenter.
Intuitive & Informative User Interface
Starting from the GSM Server dashboard, the user can clearly understand the status of each node in the IT environment, including:
Node connection status (system is online/offline)
Node hardware sensor status (to detect hardware anomalies). Sensors measure voltage, fan speed and temperature
Node usage rate status (allowing you to timely allocate more resources when they are needed), including:

Power consumption
Disk/RAID usage information
Memory usage rate
CPU usage rate
Network card / PCI information
The user can also perform various management functions, including:
Node remote access

Power on / off / reset
Launch iKVM
Reboot BMC / BMC Account Configuration

Network Configuration
Alert Management

SNMP trap setting
Platform events filters
Forwarding alerts by email

BMC / BIOS / CPLD Update
Power Consumption Limit Setting
Group Management

Create groups of nodes for BMC / BIOS update or manage power consumption settings
Management through VMware vCenter
A GSM Plugin is available for VMware's vCenter, allowing the user to perform remote monitoring and management of GIGABYTE server nodes without having to switch to a separate software platform.
GIGABYTE BMC Interface
Easy BIOS Upgrade
GIGABYTE has developed this integrated function (requiring no additional software) that allows users to update the BIOS of motherboards through the BMC controller:
No need to install core components such as CPUs, memory, drives and OS
No need to power on the system (NB. PSU must be connected)
Update individual (IPMI 2.0) or multiple boards simultaneously (Command Line)
GIGABYTE Management Console (AMI MegaRAC SP-X)
This GIGABYTE server product utilizes a AMI MegaRAC SP-X platform for BMC server management, with a feature rich and easy to use browser-based graphical user interface.
Notable features include:
RESTful API support (including the latest DMTF standards of Redfish) allows the administrator to integrate with 3rd party applications for server management
HTML5-based iKVM remote management client included as a standard feature, no additional add-on license required to purchase
Detailed FRU information from SMBIOS
Pre-event automatic video recording feature from 10 to 30 seconds
SAS / RAID controller monitoring feature
Dynamic Fan Speed Control
GIGABYTE servers are enabled with dynamic fan speed adjustment. Individual fan speed will be automatically adjusted according to the system's current temperature (according to CPU, DIMM, M.2, HDD, GPU temperature sensors), to achieve the best cooling and power efficiency. When the BMC detects a temperature change, fan speed will be automatically adjusted accordingly. Fan speed profiles may also be manually created and edited* when necessary according to the user's custom requirements.
* Enabled on selected models & performed through BMC console management GUI
Environmental Compliance
GIGABYTE maintains its commitment to green products, and adheres to the latest RoHS regulations (in effect July 2017).
VMware Technology Alliance Partner
Recognized as an Advanced Partner in VMware's Technology Alliance Partner (TAP) program enables GIGABYTE to rapidly develop and certify joint solutions or go-to-market products that leverage VMware virtualization and cloud solutions, enabling our customers to modernize their data centers and implement IT infrastructure and application services with speed, agility, and cost optimization.
Enquire with your GIGABYTE sales representative for more information about combining or integrating this server product with VMware solutions.