Up to 10 x PCIe Gen4 GPGPU cards
NVIDIA-Certified system for scalability, functionality, security, and performance
3rd Gen. Intel® Xeon® Scalable Processors
8-Channel RDIMM/LRDIMM DDR4 per processor, 32 x DIMMs
Supports Intel® Optane™ Persistent Memory 200 series
Dual ROM Architecture supported
Intel® C621A Express Chipset
2 x 10Gb/s BASE-T LAN ports (Intel® X550-AT2)
1 x dedicated management port
4 x 3.5″ or 2.5″ SATA/SAS hot-swappable HDD/SSD bays
8 x 3.5″ or 2.5″ SATA/SAS/Gen4 NVMe hot-swappable HDD/SSD bays
2 x SATA DOM supported
3 x low profile PCIe Gen4 expansion slots
1 x OCP 3.0 Gen4 x16 mezzanine slot
3 x 80 PLUS Platinum 2200W (240V) redundant PSU
Where Compute Reigns
3rd Gen Intel® Xeon® Scalable Processors – "Ice Lake"
GIGABYTE servers and Intel Xeon Scalable Processors deliver incredible 1P/2P performance from edge to data center with incredible gains in I/O throughput and workload demands that need high performing CPUs with large, yet optimized, memory configurations.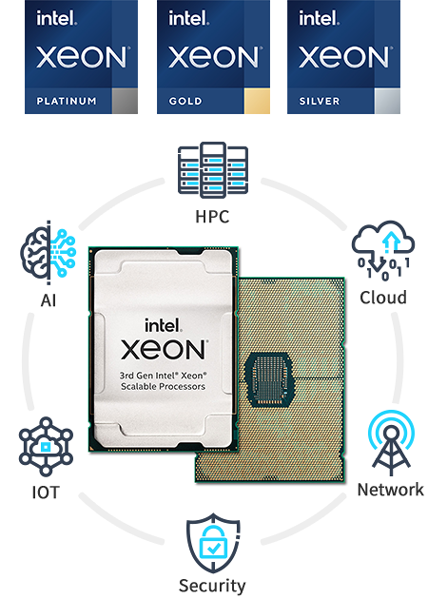 Enhanced I/0: Support for PCIe 4.0 allows for double the throughput of PCIe 3.0 for fast and large data transfers. Also, 64 lanes per socket with up to 128 lanes in a 2P configuration for fast data transmission from CPU to GPU, accelerator or storage.
CPU Performance Boost: Now up to 40 cores per socket with greatly improved IPC on Intel's 10nm architecture while operating CPUs at 105-270W. Also, an additional UPI lane is added for up to 11.2GT/s for a low latency interconnect between CPUs.
Next Gen Memory: Each processor provides eight memory channels to support 8 or 16 DIMM slots with up to DDR4-3200. There are two sub-clustering modes, Sub NUMA (SNC) and Hemisphere (HEMI), available using balanced memory that results in performance improvements. Additionally, support for Intel Optane PMem 200 series provides two modes for greater memory capacity and data persistence to process large amounts of data faster.
Next Level Security: New instructions and architecture deliver a high level of cryptographic operations for data privacy and protection. Cryptographic accelerators speed up encryption protocols as well as improvements in software guard extensions and memory encryption are added.
AI Acceleration: AI inference and training are enhanced with DL Boost Technology for greater business, operational, and security insights. Applications include HPC, AI, and Media & Graphics.
Accelerator Computing
Dual root complexParallel processing with multiple GPUs and support for dual slot GPUs allows for the highest, dense GPU compute possible. To get even more GPU performance a balanced dual root complex allows for offers the lowest latency as system memory is accessed by GPU memory via PCIe switch, while bypassing the CPU.
High-performance
NVLink and GPUDirect utilizedRequiring the ultimate performance in every aspect of a server is possible. GIGABYTE servers have been designed to support the cutting edge, high-end CPUs, GPUs P2P, and GPU-to-NIC bridges while utilizing GPUDirect and PCIe 4.0 for fast throughput and multi-GPU communication.
Flexibility
Mixed storage for HDD capacity or SSD cacheServers can accommodate large capacity power supplies to support demanding processors. As well, mixed drives allow for large 3.5" storage capacity or fast 2.5" NVME or SATA SSDs. Various expansion slots to house additional options for NICs and OCP solutions.
G492-HA0 Product Overview
G492-HA0 System Block Diagram
High Performance
Support Various Computing Accelerators
GIGABYTE servers have been tested and validated across a range of workloads with various computing accelerators designed to deliver high levels of performance for 3D rendering, deep learning and high-performance computing, which enables content creators, data scientists, researchers, and engineers to tackle challenges that were once impossible.
Power Efficiency
Automatic Fan Speed Control
GIGABYTE servers are enabled with Automatic Fan Speed Control to achieve the best cooling and power efficiency. Individual fan speeds will be automatically adjusted according to temperature sensors strategically placed in the servers.
High Availability
Smart Crises Management and Protection (SCMP)
SCMP is a GIGABYTE patented feature which is deployed in servers with non-fully redundant PSU design. With SCMP, in the event of faulty PSU or overheated system, the system will force the CPU into an ultra-low power mode that reduces the power load, which prevents the system from unexpected shutdown and avoids component damage or data loss.
Dual ROM Architecture
If the ROM that stores the BMC and BIOS fails to boot, the system will reboot with the backup BMC and/or BIOS replacing the primary. Once the primary BMC is updated, the ROM of the backup BMC will automatically update the backup through synchronization. For the BIOS, it can be updated based on user's choice of firmware version.
Hardware Security
Optional TPM 2.0 Module
For hardware-based authentication, the passwords, encryption keys, and digital certificates are stored in a TPM module to prevent unwanted users from gaining access to your data. GIGABYTE TPM modules come in either a Serial Peripheral Interface or Low Pin Count bus.
User Friendly
Certified Ready with Software Partners
Being a member of key software alliance partner programs enables GIGABYTE to rapidly develop and validate joint solutions, enabling our customers to modernize their data centers and implement IT infrastructure and application services with speed, agility, and cost optimization.
Value-added Management
GIGABYTE offers free-of-charge management applications via a specialized small processor built on the server.
GIGABYTE Management Console
For management and maintenance of a server or a small cluster, users can use the GIGABYTE Management Console, which is pre-installed on each server. Once the servers are running, IT staff can perform real-time health monitoring and management on each server through the browser-based graphical user interface. In addition, the GIGABYTE Management Console also provides:
Support for standard IPMI specifications that allows users to integrate services into a single platform through an open interface
Automatic event recording, which can record system behavior 30 seconds before an event occurs, making it easier to determine subsequent actions
Integrate SAS/SATA/NVMe devices and RAID controller firmware into GIGABYTE Management Console to monitor and control Broadcom® MegaRAID adapters.
GIGABYTE Server Management (GSM)
GSM is a software suite that can manage clusters of servers simultaneously over the internet. GSM can be run on all GIGABYTE servers and has support for Windows and Linux. GSM can be downloaded from GIGABYTE website and complies with IPMI and Redfish standards. GSM includes a complete range of system management functions that includes the following utilities:
GSM Server: A software program that provides real-time, remote control using a graphical user interface through an administrator's computer or through a server in the cluster. The software allows ease of maintenance for large clusters of servers.
GSM CLI: A command-line interface for monitoring and managing remotely.
GSM Agent: A software program installed on each GIGABYTE server node that retrieves information from each system and devices through the OS, and this software integrates with GSM Server or GSM CLI.
GSM Mobile: A mobile app for both Android and iOS that provides admins with real-time system information.
GSM Plugin: An application program interface that allows users to use VMware vCenter for real-time monitoring and management of server clusters.
NVIDIA-Certified Systems™
Today's enterprise IT computing infrastructure requires performance, reliability, and scalability to deliver cutting-edge products and services while improving operational efficiency. GIGABYTE servers not only support NVIDIA accelerators, but also are certified by NVIDIA-Certified Systems™ to perform modern accelerated workloads in data centers and edge systems where security matters, giving users confidence when deploying solutions with GIGABYTE servers and NVIDIA products.