Intel® Xeon® Processor E5-2600 V4/ V3 Product Family
Based on the Haswell microarchitecture, these new Intel processor families bring a whole new set of performance boosting features. In addition to the usual boost in frequencies and core numbers, the Intel Xeon processor E5-2600 V4/ V3 product family are the first in the industry to support the DDR4 memory technology.
Moreover, these new processors include encryption performance overhead reduction features, and technologies improving run time and migration VM integrity.
4 x GPU in an Airflow Optimized Rackmount
The G190-H44 has been designed with a front-to-back airflow. By strategically placing the card slots, the CPU sockets, the power supplies and the 11 heavy duty 23,000rpm fans within the chassis, the G190-H44's components all receive a proper amount of cold air and are able to operate at their full potential.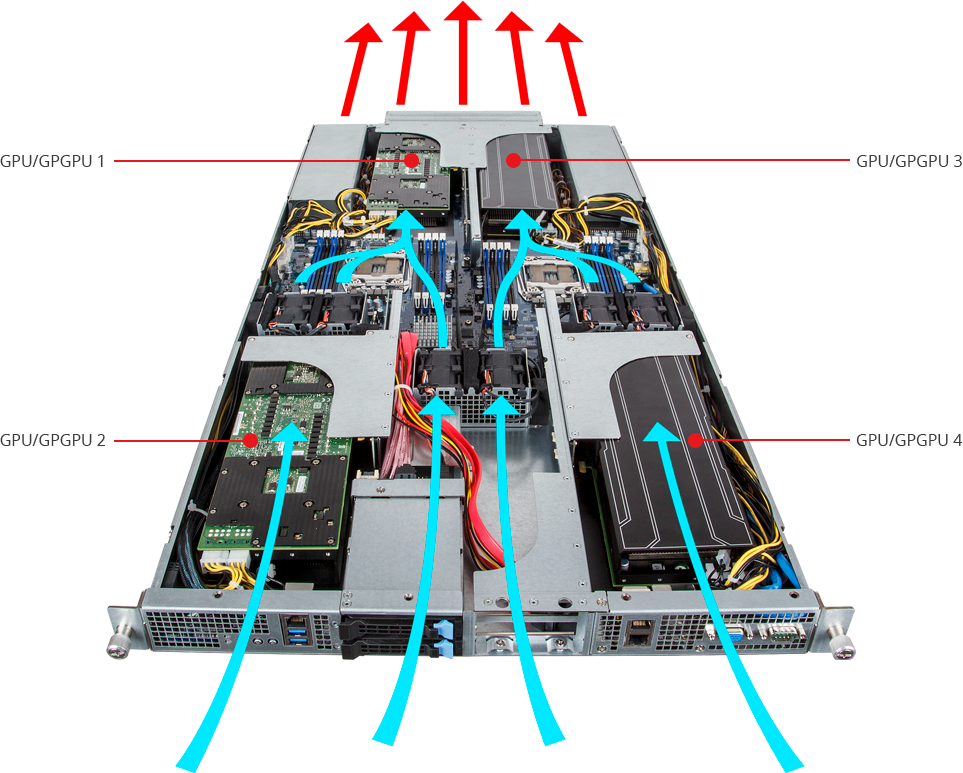 Large Thermal Envelope
Built with a pair of best-in-class 80 PLUS Platinum 2000W power supplies, the G190-H44 can run 4 high power computing cards while maintaining a power supply redundancy. The system is therefore designed to support the most high performing components without sacrificing the stability of the system and its ability to operate without interruption.
Numbers for reference only.
System wattage calculated with 2 x Intel Xeon E5-2699 V3 processors, 16 x DDR4 modules, 4 x SATA drives.
Active Cards Allowed
The G190-H44 can receive both passive and active computing cards, as long as the latter type can have an airflow direction aligned with the rackmount's front to back design.
No Processor TDP Restrictions
Unlike competing products, the G190-H44 is capable to operate to its full capacity with the highest TDP models (145W) from the Intel Xeon processor E5-2600 V3 product family.
35°C Operating Ambient Temperature
The G190-H44 is capable to operate fully equipped in an ambient temperature of up to 35°C. As most of the studies led by industry experts tend to show that the sweet spot temperature for server rooms is around 26°C, the G190-H44 offers plenty of thermal headroom to fit in professional datacenter environments.
Uncompromised Flexibility
In spite of its highly dense layout, the G190-H44 doesn't sacrifice expandability. In addition to its 4 double slot computing card bays, GIGABYTE engineers have reserved space for 2 x 2.5″ hot-swappable bays, 2 x 1.8″ fixed internal bays, and 2 x full-length low-profile slots for add-on PCIe cards:
DDR4 Memory Support
The Intel Xeon E5-2600 V4/ V3 product families are the first wave of server processors to support the DDR4 memory technology. Compared to DDR3, this new generation brings:
+50%Bandwidth Performance
-35%Power Consumption @ 2DPC
-50%Power Consumption @ 3DPC
Memory Frequency
Get the Memory Performance Edge
On the previous server platforms from Intel, the maximum supported memory frequency has always been automatically downgraded by design when more DIMMs were being added on a server motherboard. As this trade-off between performance and capacity represents a dilemma to many memory-hungry server applications, GIGABYTE offers a unique solution. All our motherboards based on the LGA 2011-3 socket support by default a maximum frequency of 2400 MHz in any memory configuration.
Easy BIOS Update
Because updating your BIOS to a newer version can be a troublesome experience, GIGABYTE has developed this integrated function (no additional software to install) that lets you update the BIOS of your server / workstation motherboard(s):
Without having to install CPUs, memory, drives, operating system, etc.
Without having to power on the system (but a power supply must be connected)
One board at a time via our IPMI 2.0 web interface
Multiple boards simultaneously via command line
Download the Easy BIOS Update user guide here.
Remote System Management
This motherboard is equipped with an onboard Aspeed AST2400 controller, providing comprehensive remote system monitoring with a whole set of management features, such as:
Remote Boot & Reset
Remote Image Mounting
Full Control Over Network, Users, Services, etc.
Complete System Monitoring & Diagnostics
Download the Server Management Console user guide here.
The Best Components Only
All IR Power Design

The CPU and memory power delivery of our motherboards is ensured by industry-leading IR Digital PWM and IR PowIRstage IC controllers. These components guarantee a super stable operating environment and allow the processors and the memory to deliver their maximum performance.

OS-CON Capacitors

With a service life of a minimum of 50,000 hours, our server motherboards are built with ultra long lasting components for the highest reliability possible.

High End Ferrite Core Chokes

The top quality chokes we install on our server motherboards also contribute to an ultra stable power delivery to the CPU and the memory.
TPM Module
GC-MUFL
10GbE LAN Card
GC-MNXE21
SAS 12Gb/s Card
CRA3338
Environmental Compliance
GIGABYTE maintains its commitment to green products, and adheres to the latest RoHS regulations (in effect July 2017).
VMware Technology Alliance Partner
Recognized as an Advanced Partner in VMware's Technology Alliance Partner (TAP) program enables GIGABYTE to rapidly develop and certify joint solutions or go-to-market products that leverage VMware virtualization and cloud solutions, enabling our customers to modernize their data centers and implement IT infrastructure and application services with speed, agility, and cost optimization.
Enquire with your GIGABYTE sales representative for more information about combining or integrating this server product with VMware solutions.