Edge Server – 1U 3rd Gen. Intel® Xeon® Scalable server system
| Application: Edge & AI
Supports up to 1 x double slot GPU card
NVIDIA-Certified system for scalability, functionality, security, and performance
3rd Gen. Intel® Xeon® Scalable Processors
8-Channel RDIMM/LRDIMM DDR4, 16 x DIMMs
Supports Intel® Optane™ Persistent Memory 200 series
Dual ROM Architecture supported
Intel® C621A Express Chipset
1 x Dedicated management port
2 x 2.5″ SATA/SAS/NVMe hot-swappable HDD/SSD bays
3 x Ultra-Fast M.2 and with PCIe Gen4/3 x4 bandwidth
1 x Full-height Full-length PCIe Gen4 expansion slot
2 x Low-Profile PCIe Gen4 expansion slots
1 x OCP 3.0 Gen4 x16 mezzanine slot
Redundant 800W 80 PLUS Platinum hot-swap power supply
Where Compute Reigns
3rd Gen Intel® Xeon® Scalable Processors – "Ice Lake"
GIGABYTE servers and Intel Xeon Scalable Processors deliver incredible 1P/2P performance from edge to data center with incredible gains in I/O throughput and workload demands that need high performing CPUs with large, yet optimized, memory configurations.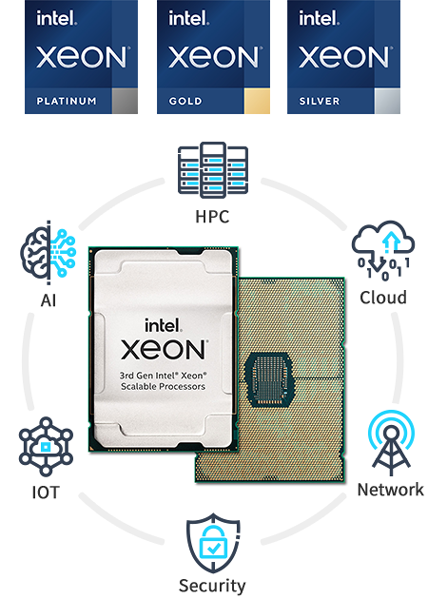 Enhanced I/0: Support for PCIe 4.0 allows for double the throughput of PCIe 3.0 for fast and large data transfers. Also, 64 lanes per socket with up to 128 lanes in a 2P configuration for fast data transmission from CPU to GPU, accelerator or storage.
CPU Performance Boost: Now up to 40 cores per socket with greatly improved IPC on Intel's 10nm architecture while operating CPUs at 105-270W. Also, an additional UPI lane is added for up to 11.2GT/s for a low latency interconnect between CPUs.
Next Gen Memory: Each processor provides eight memory channels to support 8 or 16 DIMM slots with up to DDR4-3200. There are two sub-clustering modes, Sub NUMA (SNC) and Hemisphere (HEMI), available using balanced memory that results in performance improvements. Additionally, support for Intel Optane PMem 200 series provides two modes for greater memory capacity and data persistence to process large amounts of data faster.
Next Level Security: New instructions and architecture deliver a high level of cryptographic operations for data privacy and protection. Cryptographic accelerators speed up encryption protocols as well as improvements in software guard extensions and memory encryption are added.
AI Acceleration: AI inference and training are enhanced with DL Boost Technology for greater business, operational, and security insights. Applications include HPC, AI, and Media & Graphics.
Edge Computing
Front access I/O make it easy to maintainFor quick access to storage, GPU, add-in cards, NICs, LAN ports, and power supplies, GIGABYTE edge servers bring all of them to the front. As well, tool-less design for drive bays and hot swappable FAN make it easy to maintain.
Accelerator Computing
Short chassis with high performanceOffering support for dual slot GPUs allows for the highest, dense GPU compute possible in a short chassis. Delivering the fastest throughput for data, PCIe Gen 4 lanes are all in x16 mode for a total bandwidth of 64GB/s per GPU.
Flexibility
Various storage for 2.5" and M.2 SSDGIGABYTE servers have incorporated a high level of flexibility. M.2 slots permit flexible storage in a short chassis. As well, various expansion slots can house dual slot GPU cards or other accelerators, with additional options for NICs and OCP solutions.
E162-220 Product Overview
E162-220 System Block Diagram